ASUS ROG Strix XG27UQ 27" 4K UHD Gaming Monitor 144Hz HDR 400 1ms Response Time | Brand New
BRAND NEW
MPN - XG27UQ
27-inch 4K IPS gaming monitor with 144Hz refresh rate for super-smooth gaming visual
Supports Display Stream Compression Technology for transporting ultra-high definition video streams across a single
Interface at high speed with no perceptible loss of visual quality.
High dynamic range (HDR) technology with DisplayHDR™ 400 certification and 90% DCI-P3 professional colour gamut ensures exceptional contrast and colour performance
Adaptive Sync delivering a seamless, tear-free gaming experience (G-SYNC Compatible in application process)
ASUS ROG Strix XG27UQ 27" 4K UHD Gaming Monitor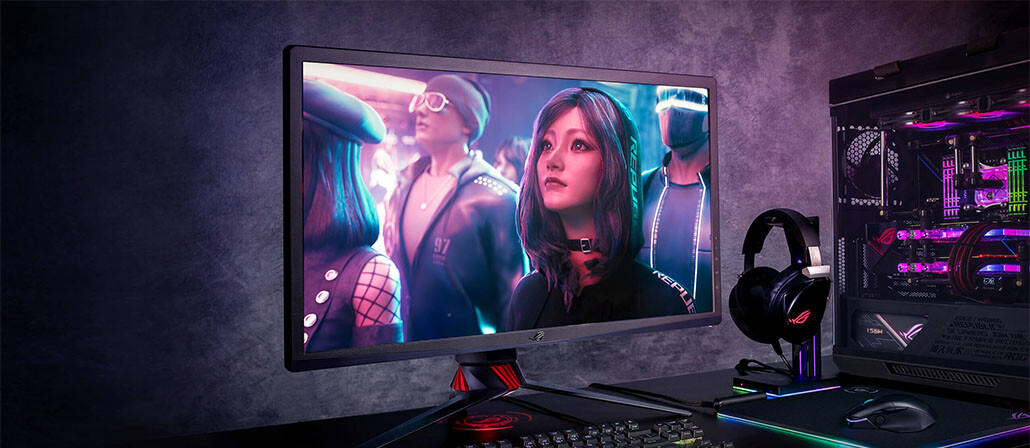 GOLD AWARD
This monitor is almost perfect, very versatile for power users, both gamers and professionals. It matches and exceeds our expectations.
RECOMMENDED
The XG27UQ is going to serve that premium gaming audience; it's fast, agile and offers a lot of good stuff.
EDITOR'S CHOICE
Colour range is good, factory calibration is fine, brightness is excellent and the sense of speed is also fine.
INNOVATION
The Asus RoG Swift XG27UQ is the first monitor that's ready to display 4K 144Hz material without problems.
World's First 27" DSC Gaming Monitor
BRILLIANT COLOUR. BLISTERING SPEED.
ROG Strix XG27UQ is the world's first 27-inch DSC gaming monitor with display screen compression (DSC) technology that delivers smooth, 4K visuals at up to 144Hz. It is G-SYNC compatible and DisplayHDR™ 400 certified, featuring exceptional contrast and 90% DCI-P3 professional colour gamut coverage.
SUPERB IMAGE QUALITY WITH DSC TECHNOLOGY
ROG Strix XG27UQ Display stream compression (DSC) technology* enables 4K visuals and an 144Hz refresh rate via a single DisplayPort 1.4 connection by compressing and decompressing each frame on the fly with no visual loss of image quality.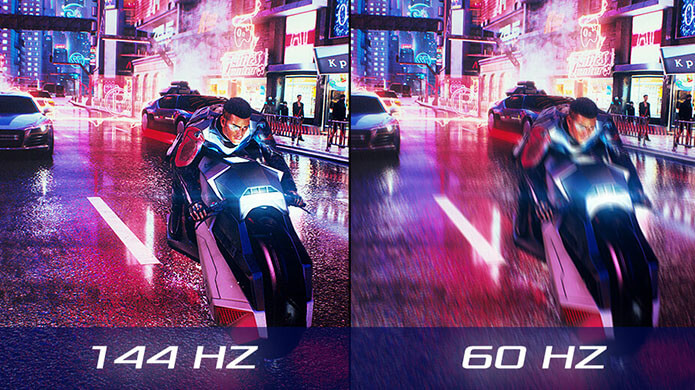 FAST 144HZ REFRESH RATE AND 1MS RESPONSE TIME (MPRT)
ROG Strix XG27UQ offers an ultrafast 144Hz refresh rate and 1ms response time (MPRT), ensuring that even the fastest-paced games played at the highest visual settings remain buttery-smooth and completely lag-free.
NVIDIA G-SYNC COMPATIBLE READY
With Adaptive Sync (G-SYNC Compatible* ready), the ROG Strix XG27UQ delivers a seamless, tear-free gaming experience by enabling VRR by default on NVIDIA GeForce GTX 10-Series and NVIDIA GeForce RTX 20-Series graphics cards. *G-SYNC Compatible in application process
WIDE COLOUR RANGE AND HIGH CONTRAST
HIGH DYNAMIC RANGE (HDR) WITH DCI-P3 90% AND DISPLAYHDR™ 400
ROG Strix XG27UQ supports HDR technology across a range of luminance (up to 400cd/m2) to deliver a wider colour range and higher contrast than traditional monitors. The brightest whites and the darkest blacks bring out details like never before. ROG Strix XG27UQ also delivers DCI-P3 90% colour gamut and contrast performance that passes DisplayHDR™ 400 certification.
ROBUST CONNECTIVITY
ROG Strix XG27UQ offers a wide selection of connectivity options, including two HDMI 2.0 inputs and two DisplayPort 1.4 interface.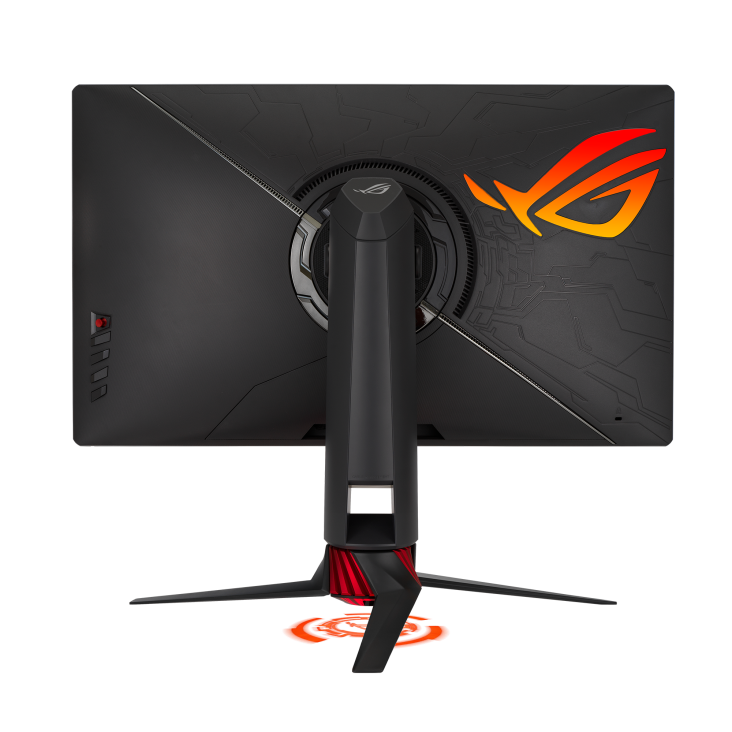 SPECIFICATIONS
Display
True Resolution :
3840x2160
Display Viewing Area (HxV) :
596.16 x 335.34 mm
Display Surface :
Non-Glare
Brightness (Typ.) :
350cd/㎡
Viewing Angle (CR≧10) :
178°/ 178°
HDR (High Dynamic Range) Support :
HDR10
Dynamically Local Dimming :
Yes
Refresh Rate (max) :
144Hz
Video Feature
Trace Free Technology :
Yes
Signal Frequency
Digital Signal Frequency :
HDMI 48~120Hz(V)/30k~135kHz(H) DP 48~144Hz(V)/329k~329k (H)
Power Consumption
Power Saving Mode :
<0.5W
Voltage :
100-240V, 50/60Hz
Mechanical Design
Swivel :
Yes (+40° ~ -40°)
Pivot :
Yes (0° ~ 90° Counterclockwise)
Height Adjustment :
0~120mm
VESA Wall Mounting :
100x100mm
Lighting effect (Aura) :
Aura Sync
Condition
The item in this listing is: BRAND NEW
Brand New
Brand New products are new and unused. They are covered by a 1 year manufacturer warranty. Most brand new items are in retail packaging, however some are in OEM boxes.
Gold/Ex-Demo
As new, but opened retail or OEM boxes. The Ex-Demo stock has typically been evaluated by staff members prior to management making retail purchases. They may have very minor handling marks such as scuffs or very small scratches, but no damage and are in immaculate working order.
Silver/Ex-Display
Silver items are new, Ex-Display models. These are units that have been on display for demonstration purposes for customers to look at. They may have light signs of wear and slight damage such as scratches, marks, scuffs or small dents. They are in immaculate working order however.
Bronze/Refurbished
Bronze stock is professionally refurbished, cleaned and restored to full working order. Will likely have some signs of use, moderate damage to casing or scratches / small cracks, they will work as well as a brand new product and are all tested to meet the manufacturers original specifications. Refurbished products will most likely be in non-retail packaging.
Warranty
1 Year Manufacturer Warranty
All our products are covered by a full 12 month manufacturer's warranty unless stated otherwise on the listing. This applies to manufacturing defects or hardware faults that develop in the first 12 months.
All orders are posted with a VAT invoice in the box showing the date of purchase, price and VAT details. Please keep this invoice safe as it is sometimes required for warranty claims. You are of course welcome to contact us for a replacement invoice if needed, and we can also email copies if you would like a digital version.
Please note: Any item delivered damaged must be reported to us within 48 hours of receipt.
In the event of a fault developing in the first 30 days of receiving your purchase, please get in touch with us as soon as possible, we will help you with troubleshooting and resolving the issue back to normal. If the fault develops after 30 days, you will need to get in touch with the manufacturer to launch a warranty claim. This will usually involve letting them know what has gone wrong and they will arrange for the issue to be rectified for you. If for any reason the manufacturer rejects the warranty claim, or you have any other difficulties please contact us and we will be more than happy to help.