Dell XPS 13 9300 13.4" Ultrabook Laptop i7-1065G7 16GB 1TB Silver/Black 0N90H | Gold/Ex-Demo
GOLD/Ex-Demo
MPN - 0N90H
Intel Core 10th Generation i7-1065G7 Processor (Quad Core, Up to 3.90GHz, 8MB Cache, 15W)
1TB PCIe M.2 NVMe Class 40 Solid State Drive & 16GB Memory
13.4 inch FHD+ (1920 x 1200) InfinityEdge Anti-Reflective 500-Nits Touch Display
Killer Wi-Fi 6 AX1650 (2x2) and Bluetooth
Intel Iris Plus Graphics
Windows 10 Pro
Dell XPS 13 9300 13.4'' Ultrabook Laptop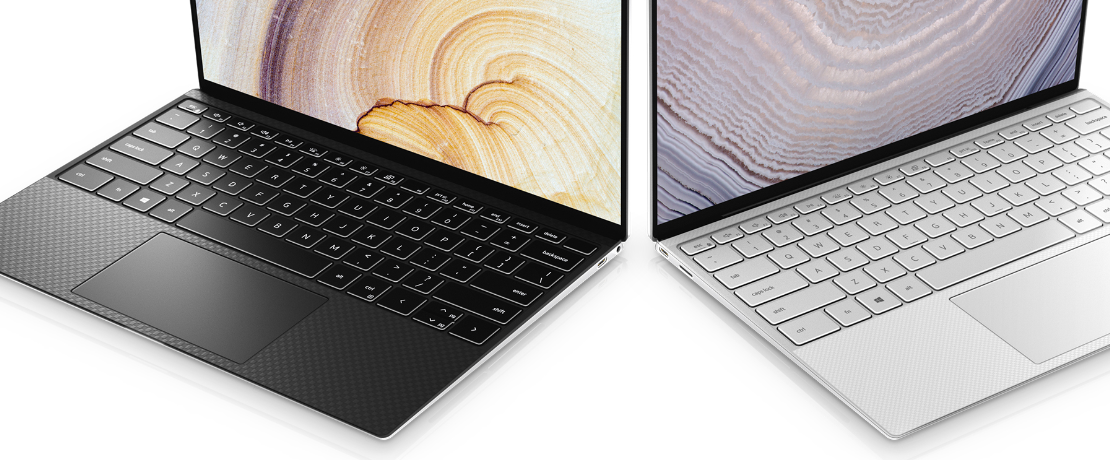 Masterful craftsmanship
Precision manufacturing:
100% of the enclosure is sculpted by a CNC (computer numerical control) machining process. A high precision, machine-milled aluminium chassis creates an elegant design with high build quality that's stronger and stiffer than magnesium or plastic.
Cool and light:
For the black palm rest, carbon fibre inspired by the aerospace industry, or the arctic white woven glass fibre palm rest, allow for maximum strength and minimal weight. Our design team worked tirelessly to get the details just right, including carefully crafted backlighting and a UV- and stain-resistant coating to prevent yellowing and staining.
Gleaming sidewalls:
Anodizing provides a superior, scratch-resistant surface, but here, edges are dipped a second time to further prevent damage from repeated plugging and unplugging of peripherals. Using this finish on the metal achieves the perfect colour without using paint, which could chip away over time.
The finest details:
Stainless inlayed logos are laser cut out of a sheet of stainless steel and dropped into the machined cut outline by hand.
Elevated essentials:
Elements like the display, keys and touchpad are all larger for an easier, more optimised user experience. The XPS 13 features a 6.8% larger 16:10 display, 17% larger touchpad and an edge-to-edge backlit keyboard with larger key caps.
One-handed open:
The new twin coil press fit hinge is designed to maximize the screen to body ratio and enable 4-sided InfinityEdge. It also enables you to open with one hand, while staying stable when you are using the touchscreen.
Revolutionary webcam construction:
The new XPS 13 webcam isn't just smaller (only 2.25 mm)—it's also better. A new 4-element lens uses more elements than a typical webcam to deliver sharp video in all areas of the frame, while temporal noise reduction uses advanced noise reduction, significantly improving video quality, especially in dim lighting conditions. Finally, the lens is assembled with precise machinery to ensure all points of the image are in focus.
Sacrifices nothing:
Features a 6% thinner design with more power, plus no sacrifice to essentials like the headphone jack or microSD card slot.
Tiny, but Mighty
Guaranteed power:
With 10th Gen InteI® Core™ mobile processors, it's now possible to enjoy incredibly immersive entertainment on a remarkably thin and light laptop. 10th Gen Intel® Core™ processor-powered systems featuring the latest Intel® Iris® Plus graphics take a huge leap forward in gaming, streaming and creativity, pushing a smoother, more detailed and more vivid experience than ever before on highly portable devices. When you see the ''Engineering for mobile performance'' icon next to select configurations, you know it was designed to keep up with your fast-paced life.
Work or play all day:
You'll experience incredibly long battery life —up to 18 hours, 49 minutes* on a Full HD+ model when using when using productivity applications like Word or Excel or up to 11 hours, 51 minutes* when streaming Netflix. On our UHD panel, get up to 12 hours and 13 minutes*using productivity apps or up to 8 hours and 27 minutes* of Netflix streaming.


Faster memory, more storage:
Your system boots and resumes in seconds thanks to up to 2TB of solid-state drive storage. Multi-task in a flash even on intense applications with up to 16GB of memory.
Killer™ Wireless:
With advanced Wi-Fi 6 technology and theoretical throughput speeds of up to 2.4 Gbps, the Killer AX1650 is nearly three times as fast as the previous generation of 80MHz 2x2 AC products. It prioritizes streaming video, communication, and game traffic in your system for fast, smooth online experiences.
Advanced thermal redesign:
From dual fans separated to spread heat over a larger area and a single heat pipe designed with a single evaporator and dual condenser, to hidden exhaust venting through the hinge, thermal design ensures you have the best performing system in the thinnest form factor possible. Additionally, your system is equipped with GORE™ Thermal Insulation, which provides thermal conductivity levels lower than air in a thin, flexible format to help keep components cool.
Stunning is an understatement
Display like no other:
Take full advantage of HDR content's superior dynamic range with Dolby Vision™, which can deliver colours never before seen on SDR PC displays. Dolby Vision™ content can deliver highlights that are up to 40 times brighter, and blacks that are up to 10 times darker. Plus, the stunning VESA certified DisplayHDR 400 display on the optional 4K+ panel enables over 16 million colours that have more depth and dimension than ever before
Easy on the eyes:
Eyesafe® intelligently manages light energy at the source – selectively reducing harmful blue light and dispersing it across the light spectrum. Our unique solution combines RGB hardware and software adjustments to more effectively protect against blue light, while maintaining vivid colour integrity.
SPECIFICATIONS
Processor: Intel Core 10th Generation
CPU Model: i7-1065G7
Number of Cores: Quad Core
Processor Speed: Up to 3.90GHz
Cache: 8MB Cache, 15W
Memory: 16GB
Storage: 1TB PCIe M.2 NVMe Class 40 Solid State Drive

DISPLAY
Screen Size: 13.4 inch
Resolution: FHD+ (1920 x 1200)
Features: InfinityEdge
Anti-Reflective
500-Nits
Touch Display

NETWORKING
WIFI: Killer Wi-Fi 6 AX1650
BlueTooth: Yes

GRAPHICS
Built in Graphics: Intel Iris Plus Graphics

EXTRA
RGB + Infrared HD camera
Windows 10 Pro
UK/Irish Qwerty Backlit Keyboard with Fingerprint Reader
Operating System
Windows 10 Pro
Storage
SSD (Solid State Drive)
Condition
The item in this listing is: GOLD/Ex-Demo
Brand New
Brand New products are new and unused. They are covered by a 1 year manufacturer warranty. Most brand new items are in retail packaging, however some are in OEM boxes.
Gold/Ex-Demo
As new, but opened retail or OEM boxes. The Ex-Demo stock has typically been evaluated by staff members prior to management making retail purchases. They may have very minor handling marks such as scuffs or very small scratches, but no damage and are in immaculate working order.
Silver/Ex-Display
Silver items are new, Ex-Display models. These are units that have been on display for demonstration purposes for customers to look at. They may have light signs of wear and slight damage such as scratches, marks, scuffs or small dents. They are in immaculate working order however.
Bronze/Refurbished
Bronze stock is professionally refurbished, cleaned and restored to full working order. Will likely have some signs of use, moderate damage to casing or scratches / small cracks, they will work as well as a brand new product and are all tested to meet the manufacturers original specifications. Refurbished products will most likely be in non-retail packaging.
Warranty
1 Year Manufacturer Warranty

All our products are covered by a full 12 month manufacturer's warranty unless stated otherwise on the listing. This applies to manufacturing defects or hardware faults that develop in the first 12 months.
All orders are posted with a VAT invoice in the box showing the date of purchase, price and VAT details. Please keep this invoice safe as it is sometimes required for warranty claims. You are of course welcome to contact us for a replacement invoice if needed, and we can also email copies if you would like a digital version.
Please note: Any item delivered damaged must be reported to us within 48 hours of receipt.
In the event of a fault developing in the first 30 days of receiving your purchase, please get in touch with us as soon as possible, we will help you with troubleshooting and resolving the issue back to normal. If the fault develops after 30 days, you will need to get in touch with the manufacturer to launch a warranty claim. This will usually involve letting them know what has gone wrong and they will arrange for the issue to be rectified for you. If for any reason the manufacturer rejects the warranty claim, or you have any other difficulties please contact us and we will be more than happy to help.